It is my pleasure to announce that we are honoured to have in our consortium Prof. Helen Karatza – a world-class expert in modelling and simulation of the HPC systems and Editor-in-Chief of Simulation Modelling Practice and Theory Elsevier journal. Helen will present the journal during the forthcoming WG and MC joint meeting in Dublin in April 2016. Please consider it as a good target for presentation of your research results.
Joanna Kolodziej
Chair
Simulation Modelling Practice and Theory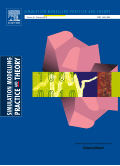 The journal Simulation Modelling Practice and Theory, published by Elsevier, provides a forum fororiginal, high-quality papers dealing with any aspect of systems simulation and modelling.
The journal aims at being a reference and a powerful tool to all those professionally active and/or interested in the methods and applications of simulation. Submitted papers will be peer reviewed and must significantly contribute to modelling and simulation in general or use modelling and simulation in application areas.
Paper submission is solicited on:
theoretical aspects of modelling and simulation
 methodology and application of modelling and simulation in any area
simulation languages and environments
distributed and real-time simulation, simulation interoperability
tools for high performance computing simulation